14T – 20T OSMA TFM-Q Range
OSMA's professional forestry mulcher series is designed for medium to large excavators. The 483mm diameter rotor allows you to mulch standing material up to 13 inches. Comes with the OSMA style multi-use tool holder, which can fit a carbide tool and chipping tool.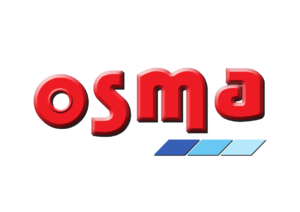 Description
STANDARD EQUIPMENT:
Welded counter knifes
Hydraulic front door
2meter hoses
64cc fixed piston motor
3F OSMA valve (by-pass, anti-shock, oil flow regulation)
Belt transmission
Heavy re-enforced frame with special steel
Hardox 400 inner liner
OSMA tool holder with 180 degree reversable tools, chipping or carbide installation.
OPTIONS:
47cc fixed piston motor
Bosh Rexroth VM55 variable displacement motor
DCR – Depth Control Rotor
Additional foot
Technical Data :

| | | | |
| --- | --- | --- | --- |
| Model | TFM – Q 100 | TFM – Q 130 | TFM – Q 160 |
| Working Width | 19 | 19 | 19 |
| Total Width | 39 | 51 | 62 |
| Lbs | 2050 | 2248 | 2491 |
| Piston Motor | 56/64cc | 64cc | 64cc |
|  Rotor dia | 325 | 420 | 420 |
| Flow Rate L/Min | 110-130 | 130 | 130 |
| Bar (Pressure) | 250-270 | 250-270 | 250-270 |
| Tool Type | Fixed | 360 Swing | 360 Swing |
| Tools | 26 | 20 | 20 |
| Anti-cavitation Valve | y | y | y |
| Flow valve regulator | optional | optional | optional |
| Belts | 4 | 4 | 4 |
| Hydraulic Hoses | 5 | 5 | 5 |
| Front Hyd Door | y | y | y |
| Rear Chains | y | y | y |
| Max Shredding | 250+ | 250 | 250 |
| Counter Blades | y | y | y |
| Hitch | Flat Pack | Flat Pack | Flat Pack |