3T – 5T OSMA TFK Range
The TFK Series is a fixed tool mulcher with reverse rotation which allows you to mulch and cut down material up to 5 inches. Equipped with carbide teeth and a DCR Rotor, these units are ideal for undergrowth and small trees up to 5 inches.
Available in 70cm or 90cm working width, standard with 17cc fixed piston motor with hydraulic Front door.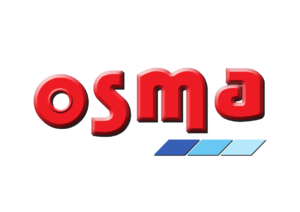 Description
STANDARD EQUIPMENT:
Mounting Steel plate (not painted) to build the top bracket for excavator.
Drainless piston motor, unidirectional 17cc with anti-cavitation valve & flow valve regulator.
Rotor type K fixed tool
Rigid double frame from special steel. (SS355-DOMEX 700).
Hydraulic hoses with 2,0mts length.
2 Transmission belts SPBX.
Bearings fitted inside the rotor.
Lateral adjustable skids.
Anti-cavitation valve integrated inside motor.
Technical Data :

| | | |
| --- | --- | --- |
| Model | TFK 70 | TFK 90 |
| Working Width | 27 | 35 |
| Total Width | 33 | 41 |
| Lbs | 551 | 617 |
| Piston Motor cc | 12 | 17 |
| Flow Rate L/Min | 25 | 35 |
| Bar (Pressure) | 200-210 | 210-220 |
| Rotor Diameter mm | 200 | 200 |
| Fixed Hammers | 17 | 23 |
| Belts | 2 | 2 |
| Anti-cavitation Valve | y | y |
| Flow valve regulator | option | option |
| Belts | 2 | 2 |
| Hoses | 3 | 3 |
| Hydraulic Door | y | y |
| Mechanical Door | optional | optional |
| Front & Rear Chains | y | y |
| Adjustable Skids | y | y |
| Max Shredding | 150+ | 150+ |
| Counter Blades | y | y |
| Hitch | Flat Pack | Flat Pack |